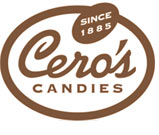 ABOUT US
A WICHITA TRADITION IN GOURMET CHOCOLATES SINCE 1885!
For over 125 years, the Cero's name has stood for quality gourmet chocolates and other sweet treats made from the finest ingredients the world has to offer. Cero's Candies, in Wichita's Old Town district, is a wonderful destination for a family trip, or a fun place to take guests while they are in town. You can shop for your favorite gourmet treat, and even watch candy being made right before your eyes!
Cero's website offers a sampling of our best-selling chocolates available for mail-order from November through April. We also offer local delivery for those living in the Wichita, Kansas metro area. We hope you enjoy browsing, and invite any inquiries about your favorite chocolates if you don't find them offered on our site. Thank you. We look forward to seeing you!
Celebrating 125 years of Sweet History and Tradition!
Store Hours: Tues. thru Fri. 10am – 5:30pm; Sat. 10am – 4pm