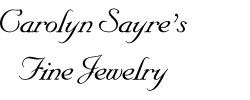 ABOUT US
Carolyn Sayre's Fine Jewelry is a "Jewelry Salon". From the time you walk through the door the atmosphere is comfortable and professional.
Carolyn and Master Jeweler, Scott Rudd, have been in the jewelry business for 30 years each. Carolyn is a Gemologist and Registered Jeweler. All repairs are done on site and custom work is their specialty.
The staff at Carolyn Sayre's Fine Jewelry is dedicated to making your jewelry experience personal and exciting. Come in and see the beautiful designs already in the store, or let Carolyn Sayre's staff design a one of a kind piece just for you.
Store Hours: Mon. thru Fri. 8am – 5pm; Sat. 10am – 3pm