DDD Events
Symphony Showhouse XVII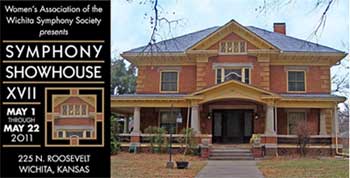 May 1 - May 22, 2011
The Symphony Showhouse is once again located in historic College Hill, 225 N. Roosevelt, in the heart of the Douglas Design District! Area decorators and designers, including MANY from DDD, will display their creative talents again this spring in the Women's Association of the Wichita Symphony, 2011 Symphony Showhouse. This year's home is owned by Billy and Stephanie Boyle, and located just two houses down from the historic Frank Lloyd Wright designed Allen-Lambe house. The Boyle's home was built in 1912 in the Neo Greek Revival style, a transitional style between Victorian and Prairie home styles. Designers will have over 15 rooms in three stories spanning 5,000 square feet, including four bedrooms and two and a half bathrooms. The home also includes an extra garage apartment not included in the square footage, but that will be decorated as well.
Check out all the wonderful shops and restaurants in the DDD, shop 2nd Saturday on May 14, and receive fantastic discounts when you purchase a $5 reusable shopping bag..
Hours
Sundays - 12:00pm - 4:00 pm
Monday, Tuesday, Wednesday, Friday and Saturday - 10:00am - 4:00pm
Thursdays - 10:00am - 7:00pm
Presenting Second Saturday
We know you never need a reason to shop, but we're giving you a big one! Every 2nd Saturday of the month you are invited to flex your local power shopping muscle in the shops along Douglas including the Douglas Design District!
If that's not enough, when you shop 2nd Saturday you SAVE MONEY. Simply purchase a re-usable 2nd Saturday shopping bag (available at all participants) for $5 and receive discounts at any of the 2nd Saturday merchants in Delano, Old Town, Downtown & Douglas Design District. Each and every month on the 2nd Saturday just present your 2nd Saturday shopping bag and save money. (Specials and discounts vary by participant and by month).
Participants:
Aspen Boutique • Beau Monde Beauty Bar • Bob Schwan Studios • Cero's Candies • Designers Expo • Ferguson Phillips Homeware • Foggy Bottom • Harrys Uptown Bar and Grill • Juliana Daniel Antiques • Mike's Wine Dive • Red Nest Interiors • The Flying Pig • The Onion Tree
•
The Spice Merchant
•
Traditions [
more...
]